FinTech Chaos
There is one big problem with new and emerging markets: Intransparency!
New markets by definition lack data and statistics. Also definitions are often manifold and anything but clear cut. Companies are not public and don't report quarterly financial reports. All too bad …
FinTech is no exception!
Nevertheless, the German FinTech sector is remarkably transparent given its nascent stage. There are numerous institutions providing data of the FinTech ecosystem.
The only issue is: They are very different …
As you can see below, the number of FinTech startups varies betweenca 140 (Jun 15) to over 400 (Feb 16) depending on the source.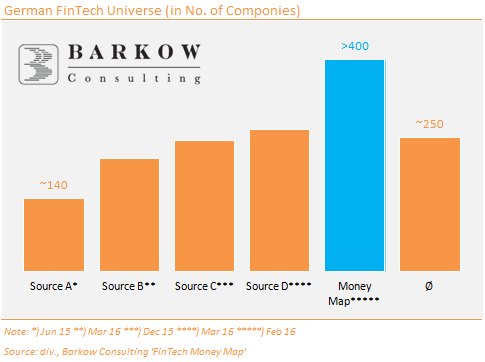 Our proprietary data base Barkow Consulting FinTech Money Map is at the high end of the range. We have not published new data since February 2016. Although this was only a few weeks ago, we can already see, that our Money Map has experienced substantial growth since then and exceeds the 400 mark by a wide margin at present.
German FinTechs: 140 or >450?
A range from ca 140 to probably over 450 is anything but helpful and prompts the questions: Who is right?
A part from not covering the German FinTech sector well enough (and we know how tough it is …) there are other reasons for differing numbers:
FinTech Definition:
Defining FinTech is more art than science. We have our definition. Everybody else has a definition. André Bajorat and his Rat Pack have written and conversed comprehensively about it.
Surprise, surprise: All definitions contain the words Finance and Technology! Unfortunately, they also contain a huge arbitrary element. In other words, each classification contains a tremendous judgemental factor.
It is like with so many things in life: You know it, when you see it and sometimes not even that.
Nonetheless, we think that most definitions are somewhat similar and do not explain the difference in numbers.
Barkow Consulting:
"Use of modern technology to provide financial services (FinTech) especially but not exclusively from (young) non banking companies."
Categories/Verticals:
The largest area of difference in our view. Putting together verticals is already leading to comparability issues. Literally every data provider is following his own FinTech subcategories. Nonetheless, we think the main difference arise from the inclusion or exclusion of the following verticals:
InsurTech: Most include it, we do too.
ERP/Business Tools: We are unsure, what others do, but we include it.
PropTech: Some, but not all include it. We do too.
Incumbents & Non FinTech-Disruptors:
Another area with shades of grey is whether to include FinTech activities of incumbents and non FinTech disruptors. These can come in the form of a FinTech offering/produtc or a separate FinTech subsidiary. Incumbents and disruptors also tend to buy FinTech startups.
As a general rule, we do not include any of the above. There might, however, be exceptions to the rule under certain circumstances.
Startups vs. Mature FinTech:
The next difference is related to age of the FinTech companies:
We consider a company with less than 10 years of age as a FinTech Startup in line with the definition of the German Startups Association
FinTech companies older than 10 years is a Mature FinTech according to our definition
We do include both, but the vast majority of our FinTech Money Map companies are Startups.
Foreign vs Domestic:
Anothere area of debate is, whether to include foreign FinTech companies, which offer services in Germany.
There are the following possibilities:
Foreign company with German daughter company
Foreign company with German representative office
Foreign company with German web site
Foreign company with international web site and product offering accessible from Germany
Generally, we do not include any of the the above in our FinTech Money Map. We might consider foreign companies with German daughter companies in the future.
Status of business operations
Another possibility to distinguish FinTech companies is the status of their business operations:
Announced: Some companies announce their launch early and ahead of having a product offering.
Active: These are companies that have an active product offering.
Inactive: These are companies that have ceased business operations for various reasons.
Our FinTech money map monitors all of the above.
However, only active companies are part of our market statistics (number of FinTech companies)
Company vs. Product
Finally, we can distinguish between a FinTech company and a FinTech product. Of course we include FinTech companies, but the lines to a FinTech product can be blurred. We include the latter if it is important to both the company providing it as well as the German FinTech sector.
If you find the above too wordy (be assured, we do …), we have summarized it in the infographic below (click to enlarge):